Saint Louis:
When:
Wednesday, November 22, 8:00 p.m. EST
Where:
Chaifetz Arena, St. Louis
TV:
Fox Sports Midwest
Radio:
AM 910 Superstation
What better way to start the long Thanksgiving than watching the Titans lose to our old MCC rival, Saint Louis. Indeed, Saint Louis has the distinction of having been both an MCC and Missouri Valley rival of the Titans. Like most our old MCC rivals (i.e. Marquette, Dayton, Butler, Xavier, Evansville, La Salle, Duquesne, and Loyola), Saint Louis has gone on to bigger and better things. They're one of those programs (think BYU, Utah State, St. Joe's, UMass etc.) that sort of straddle the dividing line between "high major" and "mid-major," playing in the Atlantic 10, what is generally considered the one of the top conferences outside the P6. Since winning 81 games (and advancing a round in the NCAA each year) between 2012 and 2014, the Billikens have struggled, going just 34-63 over the last three years. but they're off to a solid 3-1 start this year, including an impressive win over Virginia Tech last Thursday. They lost the last time out, however, by 27 points against Providence.
All time, the Titans are 15-29 against Saint Louis, but this will be the first meeting between the Titans and the Billikens in nearly a decade. The Titans won that last meeting, 62-57, in November of 2008. The Titan wins include a 73-60 win over 15th ranked Saint Louis in February, 1950. Overall, the Titans are 1-5 against the Billikens when the Billikens were nationally ranked, 1-0 when the Titans were nationally ranked (a 69-61 win for 17th ranked Detroit in December, 1977).
But what you all want to know is this: what the hell is a "Billiken?" According to the Saint Louis U. website, a Billiken is a "mythical good luck figure, who represents things things as they ought to be." But it's not exactly a myth whose origins are lost in the mists of history--it was invented in 1908 by Flo Pretz, an art teacher in Missouri. You're supposed to rub its belly for good luck. They became quite popular in the first part of the 20th century, and can be found as far from Missouri as Alaska and Japan. Saint Louis teams acquired the "Billiken" nickname as early as 1910.
This Billiken sits outside Chaifetz Arena, the site of Wednesday's game.
Seriously, are we going to let this little Buddha knockoff knock off a Titan?
At least one rumor is that the name first attached because Saint Louis U. football coach John Bender was thought to look like the Billiken. Seriously. Here's a photo of Coach Bender, circa 1910.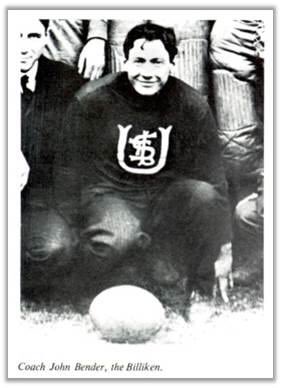 A Billiken, or a football coach? You decide.
As to this Billiken team:
The Billikens are in their second season under veteran coach Travis Ford, and there's a general sense that things are on the upswing. They've used the same 5 starters in all 4 games to date, and played a short, seven-man rotation.
Those starters include two Top 100 freshman recruits, forward Hasahn French and guard Jordan Goodwin. Michigan State transfer Javon Bess is another new face in the starting lineup. Holdovers from last year are senior guard Davell Roby, a holdover from the Jim Crews regime, and sophomore Jalen Johnson. The bench has largely consisted of junior forward D.J. Foreman and senior guard Anthony Hines. Though Saint Louis doesn't have a lot of size in the front line, their guards are big and strong and they have been a very good rebounding team. The Billikens prefer to play slowly and methodically. They are a patient team with the 5th longest average time per offensive possession in NCAA D-I. Providence was able to get them out of that rhythym and get easy buckets. The Titans are one of the fasted playing teams in the country, but whether Detroit has the ability of Providence, I am doubtful. But the Titans showed some progress, at least at times, against Houston Baptist, and if the guys shoot really well, they may have a chance. I think a 30 point Providence win seems much more likely.
Probably Starters:
G: Jordan Goodwin, 6-3 Fr. (9.3 ppg, 7.3 rpg, 5.0 apg)
G: Davell Roby, 6-4 Sr. (9.8 ppg, 41.2 3PtFG%)
G: Javon Bess, 6-6 RS Jr. (16.3 ppg, 6.0 rpg)
F: Hasahn French, 6-7 Fr. (8.3 ppg, 7.3 rpg)
F: Jalen Johnson, 6-7 Soph. (6.8 ppg)
Key Reserves:
G: Aaron Hines, 6-0 Sr. (9.8 ppg)
F: D.J. Foreman, 6-8 Jr. (7.0 ppg, 4.8 rpg)
C: Rashed Anthony, 6-9 Sr. (0.5 ppg).